Board of Directors
A.L. Perotka
DVM
Arcadia, OK
I was born in western Illinois, grew up on a small farm in central Missouri, graduated from the University of Missouri School of Veterinary Medicine in 1972, and a year later followed the lure of Quarter Horse racing down Highway 66 to Oklahoma City…never got enough money together to leave; anyway, this rambunctious, big sky, red dirt land is home to me now.
Over my years of veterinary practice, I have developed a strong interest in optimum neuromuscular function of the equine body. I guess my daugher, Katy, inherited that same interest, albeit with a less distinguished species. I have drastically changed my relationship with food and exercise in the last few years, which has also improved my psyche and outlook. I'm honored to serve on the Board of an organization that can do the same for disenfranchised members of society.
Jamil Shamji
Esq.
Ontario, Canada
Jamil earned an honors BA in Economics (McMaster University, 2008), is a law school graduate (Oklahoma City University School of Law 2011), member of the State Bar of Texas (2011) and is currently working towards a legal license in Ontario.
Jamil became involved with Root to Rise Inc thanks to a friendship with Katy. He was anxious to join the team upon hearing of the goals and initiatives.
Jamil's an obsessive golfer, proud Canadian, and devout fan of Toronto's professional sports teams. He looks forward to joining and contributing to Root to Rise Inc, as well as learning and integrating the benefits of yoga exercises into his daily routine.
Patrick McCright
CPT, USA, AN
Oklahoma City, OK
I am an Officer in the US Army with 17 years of service. The majority of my life has been spent in the health care industry. I grew up in Louisiana, but have been in Oklahoma for about 15 years now and consider Tahlequah to be home even though I spend the majority of my time in Oklahoma City due to work. Initially, I sought out yoga thinking it would help me to relax and relieve some stress. I have found that the physical benefits have been just as powerful. I am excited to be part of Root to Rise and look forward to seeing it grow.
Officers
Katy Jones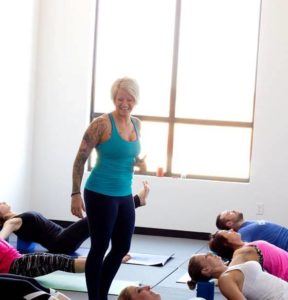 Esq.
President
Brooklyn, NY
I'm a former lawyer, yoga instructor, and CrossFit coach. Currently, I'm working as a federal agent and managing my organization from afar with the amazing assistance of my head instructor, Chelsea. I have a strong connection with anything with four legs, and I'm extremely wealthy in the love of amazing friends. I was raised to question everything, embrace life fully, and spend as much time on the back of a horse as possible. My goal is to grow Root to Rise to have as much prominence as possible in the state of Oklahoma, and eventually, the nation. Service to community has long been my passion, and I'm able to live out that passion most effectively through this wonderful organization.
Karli McMurray
Esq.
Secretary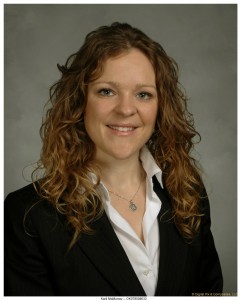 Hobbs, NM
Karli is a 2011 graduate of Oklahoma City University School of Law. Her time at OCU Law was largely devoted to her involvement with public interest student organizations where she met Katy. She is most grateful for the incredible support given by Katy who has been instrumental in the inception and continued success of One Love Worldwide. As founder of OLW, Karli has been given the unique opportunity to observe the struggles faced in rural villages of developing nations and work to find solutions to those struggles. Karli currently works full time for OLW and spends much of her time in Ghana.
Karli couldn't be more proud to be a part of Root to Rise Inc and the wonderful impact the organization is having on the lives of so many. She looks forward to continue working and learning alongside her dear friend and soul sista, Katy.

Jeanie Fortman
Treasurer
Pilot Grove, MO
I'm an insipid old woman falling gently into retirement with a huge grin on my face in anticipation of pleasing no one but myself. Katy, on the other hand, exudes energy and enthusiasm out her pores which is why I live two states away. But, the one thing that Kate has taught me is that the Super Bowl is a football game and not a basketball game, although they both exhibit grown men chasing balls around – but why the size or shape of a man's balls is important still eludes me.
Instructors
Katy Jones
Brooklyn, NY
When I started Root to Rise, I wanted it to be an all-encompassing, far-reaching organization. Everyone suffers a traumatic experience at sometime in their lives, but many can remain "stuck" in this trauma. The more trauma-specific trainings I attend and the more I research the effects of trauma, the more I understand how much yoga can heal. I've gained more from my classes with prisoners, veterans, and first responders than any work I've ever done. You can see the physical changes in people who are settling into their body and breath for the first time. It's life-changing. I will spread this knowledge and teach these classes as much as I can for as long as I can. Thank you so much for your support of our work.
[certifications: CorePower 200hr Hot Yoga Teacher Training, CorePower 45hr Power Yoga Teacher Training, Prison Yoga Project training, Veteran's Yoga Project training, Yoga 4 Amputees training, Yoga Service Council scholarship recipient]
Chelsea Patton
Oklahoma City, OK
Chelsea began practicing Bikram yoga in 2006. At the time, it was exactly what she didn't know she needed. She was a lost soul, disconnected from herself both emotionally and spiritually. It was on her mat that she began to notice a change in her body, mind, and spirit. She grew to appreciate the consistency and discipline of Bikram yoga. With a regular practice, she slowly began to experience awareness, compassion, and acceptance for herself. Over time, her yoga practice became a moving meditation, a journey inward, and a sacred time on her mat where she could simply 'be.' She came to not only believe i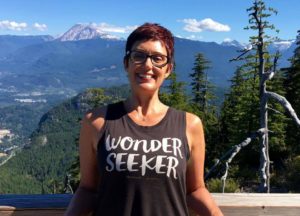 n the power of yoga, but in herself.
Chelsea completed Bikram yoga teacher training in Spring 2015. Teaching and practicing yoga is something that brings her great joy. She loves the vibrant energy yoga creates within the body! Chelsea brings the awareness, compassion, and acceptance that she has gained through her yoga practice into each class that she teaches. She believes that Bikram yoga creates a space for self-realization – a better understanding of who you are in your body, in your mind, and in your spirit.
Chelsea is also a STOTT certified Pilates teacher and has enjoyed working with students for 10 years. Her knowledge of mind-body movement, joint stability, muscle control, and breathing compliments her Bikram yoga teaching. When she's not teaching and practicing yoga or Pilates, she enjoys spending time in her kitchen cooking and getting out in nature, be it gardening, walking a trail, or simply reading a good book beneath a tree.
Chelsea joined the RtR team in early 2016, leading classes at Mabel Bassett Correctional Center.
Terra Butler
Bentonville, AR
Terra Butler is a seeker, hiker, mover, and good-vibe-giver living in the hills of Northwest Arkansas. Ter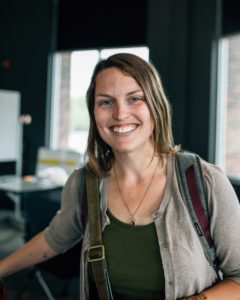 ra began a consistent movement practice with a teacher at a small local studio in 2014. Eventually, she moved her practice to her home and found that what began as a practice for the body quickly grew to include her mind and spirit. Terra's discovery of meditation and the concept that each breath offers a fresh start has been life-changing for her. After spending over 10 years in a corporate setting, in 2016, she followed her heart and intuition and completed her 200-hour teacher training at the Circle Yoga Shala in order to share the transformation she has experienced with others who are seeking to be more present "in the now."

Terra joined RtR in 2017 and offers classes to The Northwest Arkansas Women's Shelter.